DRM ContentServer
The RFmondial DRM ContentServer is a highly reliable professional broadcast system for Digital Radio Mondiale (DRM) based on Fraunhofer technology. It provides all data and audio services and offers all interfaces for a smooth integration into the broadcast chain.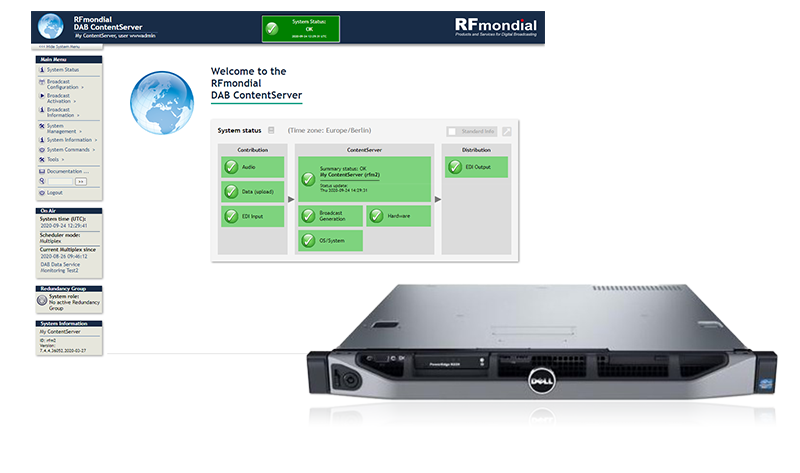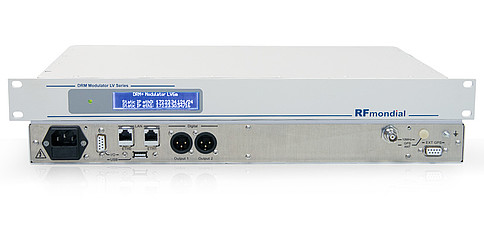 DRM Modulator / Signal Generator LV
The LV Series DRM modulator familiy uses MDI-delivered radio content to produce a modulated and/or RF-transformed radio signal which conforms to ETSI ES 201980.
DRM Exciter LVe
The RFmondial LVe is a fully Direct Digital Synthesis (DDS) broadcast exciter, tunable with the LW, MW and SW frequency bands 9 kHz - 30 MHz (AM bands) or 65 MHz - 230 MHz (VHF bands).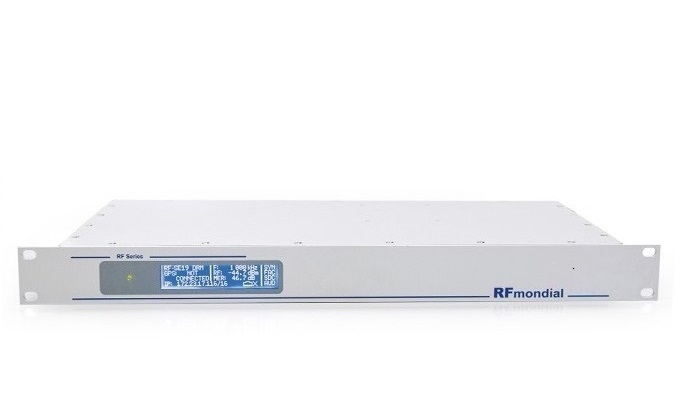 DRM Monitoring and Measurement Receiver RF-SE
RF-SE is a professional DRM/AM/FM monitoring and measurement receiver, which is available in different models depending on the desired application.
FM Monitor
Product Line Option FM is an add-on for the professional digital radio monitoring and measurement receivers RF-DAB and RF-SE.

Livewire Input Node RF-LW
RF-LW is a professional 8 channel Livewire input node specifically targeted for broadcasting and audio applications, which require 4 analog stereo and 4 digital stereo, or 8 digital stereo only input channels. A single 100Base-T link is used to send all audio channels synchronously, eliminating the need for huge breakout cables. Outstanding audio performance and rigged design offer a fully-featured product for professional users.
EDI/MDI Streamer RF-DCP
RF-DCP is a professional software tool for playing pre-stored EDI/MDI files for DAB and DRM broadcasting applications and testing.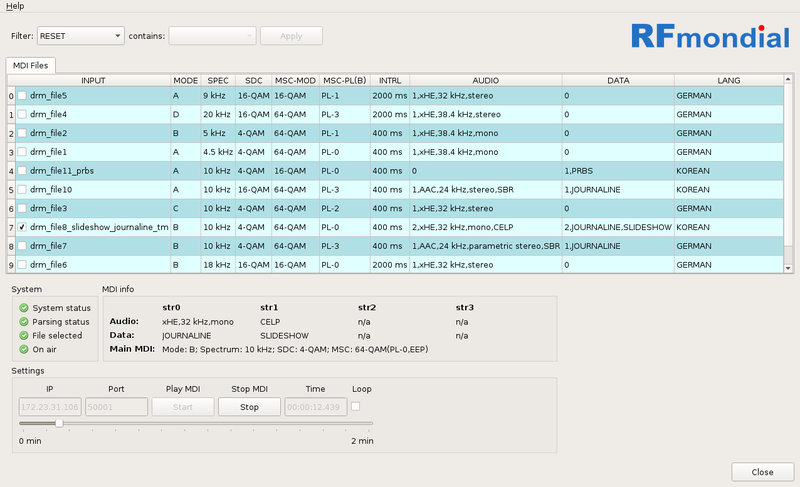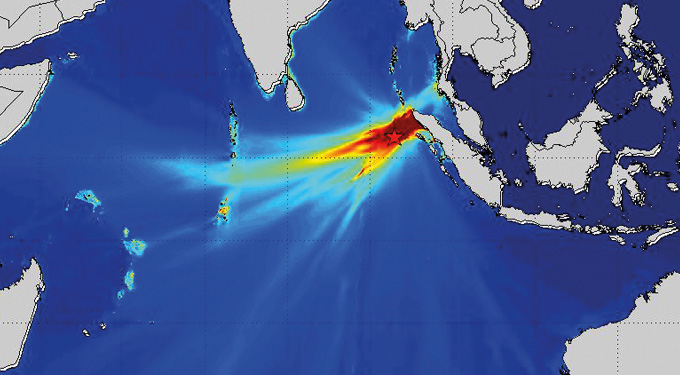 EDI/MDI Player (MultimediaPlayer Professional)
The MultimediaPlayer Professional based on Fraunhofer Technology exploits the full potential of digital radio on a PC. Along with providing radio programs in stereo and 5.1 surround sound, it offers the full spectrum of standardized radio services.
AM Monitor
Product Line Option AM is an add-on for the professional digital radio monitoring and measurement receiver RF-SE.